September 9, 2009 at 10:30 am | Posted in
Arsenal
|
7 Comments
Tags:
England
,
Tactics
Croatia coach Slaven Bilic has claimed he knows England's weaknesses – here are the three areas where we think Fabio Capello's side may be vulnerable.
______________________________________________________________________________

1. England's playing style puts too much strain at the back
Fabio Capello was right to back Glen Johnson after his defender was on the receiving end of much criticism after the 2-1 win over Slovenia. Rather, he bemoaned England's failure to play to his instructions and it seems Johnson is literally on the wrong side of England's ineffectiveness. The nation had been crying out for a coach, long before Capello came to stamp a more continental flavour to the play but if the Italian feels they are technically there, are they ready mentally in terms of making the right moves and decisions?
If not, Slaven Bilic may be on to something when he says England are "missing some Englishness, some of the things that have always made England teams difficult to defend against and play against." Capello is demanding patient build up play and if that fails expect large holes for the opponents to exploit on the counter or from transitions in play. While Spain can be more expected to play an expansive, passing style England have always been known for their directness and quick tempo.
And factor in the role of Heskey, who while giving them an unorthodox physical presence, it means play needs to more effective around him. Walcott gave the Three Lions an outlet behind the defence in the 4-1 win in Zagreb allow them to get the ball forward quickly and similarly Defoe, who particularly thrives in the second half when the opposition is worn out and England's tireless manner stamps greater authority.
Indeed, England's play has a slight slant to the left with Gerrard and Rooney expected to link up and switch positions, and Barry to cover for the forward runs of Ashley Cole. Matches against Ukraine and Slovenia have usually seen Glen Johnson being pushed more centrally when the ball breaks down and that is an area where the latter country took advantage for their late goal. "Glen Johnson is a very dangerous player," said Slovenia boss Matjaz Kek. "Stopping him was very important. But when you play in such an offensive way it leaves a lot of space behind. "I have seen England two or three times. I knew we could get to the goal on that side."
With a bit more work however, the perfect synchronization of the two styles (English and Continental) could turn this into England's strength.
2. A lack of mobility in central defence
One of the fundamentals of playing a high build up game requires the defenders to push up to allow the side to continue creating the pressure. This means the defenders must must be mobile, technical and read the game well, looking to push up to create a high line so the ball can be continuously circulated.
Rio Ferdinand is a huge miss as arguably he has all these qualities and it'll be up to John Terry to step up although the one area he lacks is pace. His choice of partner is likely to be either Matthew Upson or Joleon Lescott but the new Manchester City man will remember not to fondly the runaround he was given by Ivica Olic and Eduardo in the final Euro qualifier in 2007 at Wembley. Bilic will no doubt have his two men stationed as high up the pitch as necessary to take advantage.
"The transition from defence to build-up must be executed very quickly," says former Holland manager Rinus Michels. "The team tactical manpower in the centre of the field (central defenders, midfielders and striker) is of great importance. During the build up, the tactical coherence between the central defenders who must be thinking of playing the ball forward, the attacking midfielders and the central striker is very precise work. When possession is lost, it starts in the opposite direction. Good ball circulation puts high demands on the quality of the positional play, the mastering of the tempo and the speed of action."
3. Lack of positional sense in midfield
Gareth Barry and Frank Lampard are two fantastic central midfielders but none are really defensive players. Modric ran amok last time round in Wembley and while the Tottenham man is missing, Billic will have identified the lack of protection they provide and will have his men pressuring quickly. Two backpasses against Holland gifted the Oranje two goals and with a live wire pairing up front, there can be no lapses of concentration from either midfielders.
February 11, 2009 at 5:00 pm | Posted in
Arsenal
|
1 Comment
Tags:
England
,
Formation
,
Movement
Fabio Capello belives in the modern game, the only formation is the 9-1.
____________________________________________________________________________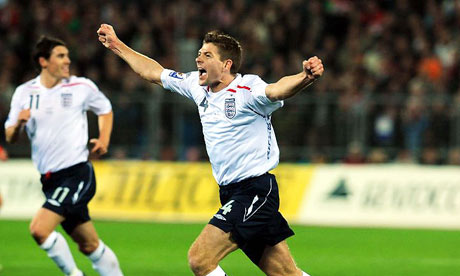 When asked after the game against Belarus whether England were playing a 4-4-1-1 or 4-2-3-1, manager Fabio Capello bluntly dismissed such notions. "These figures are stupid," he said. "In the modern game, the only formation is 9-1."
Actually Fabio Capello isn't rejecting the idea of formations completely; just arguing that there are greater subtleties beneath giving a title to the physical arrangement of players. Regarding his England side, one can see the 9-1 in action. When playing with a full strength side they have Heskey as the focal point ably supported by nine outfield players with the responsibility to defend and attack. Heskey's contribution is crucial as he plays across the line, linking up play with his back to goal and creating space for others with his presence.
But not all teams play with one up front. Spain won Euro 2008 with Torres and Villa while Luciano Spalletti's Roma side played with none (though recently they have moved to a diamond formation). However by concentrating on the striker it means one is ignoring the subtleties.
Croatia manager Slaven Bilic feels similarly about formations and can give a greater insight into what the England coach really means. "Systems are dying. Like 4-5-1, what does it mean? It's only for journalists or at the beginning of each half. When defending, great teams want many behind the ball. When attacking, players from all sides. We have to be compact, narrow to each other.
"Italy won the 2006 World Cup with nothing like the [defensive] Italy you usually think of. They finished the semi-final against Germany with Del Piero, Gilardino, Iaquinta and Totti — four strikers. And two full-backs bombing up. It's about the movement of 10 players now."
Now it is much easier to understand. By playing one striker, a coach can accommodate a number of creators, allowing greater fluidity and flexibility. Spain played with a fluid system where Torres was the front runner while Villa played off him but around them were plenty of attacking midfielders and the full backs pushed forward too. Roma's 4-6-0 uses Totti as the focal point though with great movement and use of space from midfielders he doesn't need to play as high. One reason why Ronaldo scored so many goals last season as opposed to this, is because there was greater interchangeability across the line of attack, leaving no points of reference for defenders.
The role of the striker has evolved and they are now expected to do more; scoring goals need not be a centre-forward's principal purpose. They must be able to use their intelligence to drop off into space and play in team mates while also being able to make runs to stretch opposition. An increased mobility and interchangeability in strikers has lessened the need for the traditional 'goal-poachers' while there are greater expectations on midfielders to contribute goalscoring-wise. "For me, a striker is not just a striker," says Jose Mourinho. "He's somebody who has to move, who has to cross, and who has to do this in a 4-4-2 or in a 4-3-3 or in a 3-5-2."
Fabio Capello has tried to instill the same ideas in his England side. Gerrard plays as an unorthodox left midfielder and is detailed to come inside when attacking, Rooney is allowed to drift and the midfielders must be able to support. But the main point which is stressed is movement: "I think they know me now – my style, the movement around the pitch that I want. They know and it is better now." Capello also talks of the importance of the whole collective's responsibility in scoring goals.
"Only [Spain's Fernando] Torres is a big striker in this moment in the world. [As for] the others, Italy [are] so-so, Germany [are] so-so, Portugal [have nothing]. Also the French, you didn't see anything. It's a big problem now because the teams defend very well. It's a problem everywhere. You have to play in a different style – the other players they have to score more goals."
Even so, playing with great movement is a highly specialised skill and not easy to implment for many clubs. But if one succeeds the result can be explosive. Like the 'Total Football' sides of Holland in 1974 and Dynamo Kyiv to the more recent examples in Man United and Barcelona, such sides have shown this explosiveness. Arsenal's youngsters displayed one of the best examples this season as they comprehensively beat a full-strength Wigan side in the Carling Cup with Jack Wilshere, Vela, Ramsey, Gibbs and Merida creating havoc. And with Jay Simpson leading the line it was a perfect example of the 9-1. One must not forget the importance of the central defenders also; their mobility and ability to initiate attacks as well as their defensive nous being the backbone of the side.
Modern football sees clubs looking to deny opponents any space. It is about controlling space and reducing space for opponents when attacking and defending. By playing a 9-1 where the whole team has the responsibility to attack and defend, Capello believes it is not about the individual's effectiveness rather the effectiveness of the individuals within the system. If the players adapt it means they have created a system of flexibility and fluidity which becomes less predictable for opponents and therefore harder to disrupt. Not many teams can do it but when they do, it can be destructive.
Blog at WordPress.com. | Theme: Pool by Borja Fernandez.
Entries and comments feeds.